Bernie
from
One Mixed Bag
has kindly asked me to guest-post for her today. It's my first time ever doing a guest-post, and naturally, I'm having a panic attack as we speak. But don't mind me, this sort of thing happens to me a lot.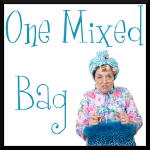 What would make a difference though, if you would actually hop on over to One Mixed Bag and show both Bernie and me some support and love by reading and commenting on the posts. You can find my guest-post there too, titled
The Tale of Two Bloggers
.
Thanks so much, everybody!
P.S.: if nobody reads my guest-post, I may never be asked again to guest-post by anyone. Wouldn't that be SO sad?