Budugalee
is a brandnew Etsy shop owned by my bloggy friend,
Bernie
, from
One Mixed Bag
.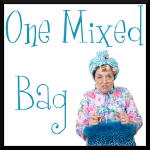 Let me tell you a little about
Bernie
. She is the same person behind the extensive "
Purse Porn
" collection and famous
Wordless Wednesday
posts. And if you read her posts on her blog, you'd know that Bernie has a limitless imagination and creativity. All that and she still manages to make me smile every single time with her comments and posts (read
Zumba Kicked My Assa
). She even have cool friends who are funny to boot! (read
When the cats away...
)
At the moment, she's only selling individual cards. They're vintage style, but with a spunk! Knowing Bernie, make sure you drop by her Etsy store often, because you'll never know what unique and quirky things she'll have in store! When you click on the banner above it will take you to her site.
Show Bernie some love and support her on her new venture to become a successful store owner ;)