I often asked myself, whether as a daughter, a wife, a mother, and a friend I have done 'enough.' That if I were to die right this minute, could I genuinely say to myself, that I am 'enough'?
After all, I am human. There are many mistakes I wish I could undo, many choices I wish I hadn't made, many decisions I wish I could do otherwise. I also wish there were many more lives I could have changed for the better, many more kindness I could have shown, many more lost souls I could have given my shoulder to cry on to.
It's always easier to focus on the negative: on what I haven't accomplished, or on how I fare when compared to others in a similar role. I'm aware of daughters who have managed to support their parents so that they could go into early retirements. Or those who lovingly attended to the needs of their aging parents. Some of my friends, even after a hard day at work, still made the time to cook their husbands' favorite dish or serve them sliced fruits. I know of wives who could keep a clean house, be on top of the children's homework and school projects, and still hosted the most amazing dinners for their husbands' friends at home.
There are mothers who despite having three or four kids, are actively involved in every single one of their children's activities, have killer bodies because they were disciplined enough to fit in some exercise time, and do not have raccoon eyes the next day because they manage their time so well that they could still have eight-hour sleep and wake up refreshed at 5:30am every day. I have friends who would go to lengths (e.g. fly across the ocean to visit me when I was down, for example) and gave it all they could for a friend in need.
I have not done all of the above. At least not to that extent. So does that mean I'm a 'less-than-enough' daughter/wife/mother/friend? Lets face it. In the face of all those greatness, how could I not feel small? Insignificant? Not to mention guilty for not being able to do what others could. These are the things you can't tell yourself, "Oh, they're impossible," because the proofs are there for my eyes to see. I've seen people do all of those great things. They are not impossible.
And yet they remain impossible to me.
How many times have I, upon seeing what others have accomplished, been inspired and forced myself to do something similar because until I succeed in doing the same things, I felt that I haven't tried or done 'enough.' I pushed myself harder and harder, to accomplish more, to give more, to do more, to be more. And when I later ended up unable to reach the goals I've set up for myself, I became frustrated, angry with myself, disappointed, and deemed myself as not good enough.
And it usually led to the conclusion that I am a bad daughter, a bad wife, a bad mother, and a bad friend.
The past five months, however, had changed the way I see and value myself.. I found that:
I am emotionally stronger than I thought.
I am surprisingly resilient.
I am capable of forgiving others who had wronged me.
I love unconditionally.
I care deeply.
I can find things to be happy about even during sad times.
I am doing the best I can.
I have my strengths as well as my weaknesses, and my weakness doesn't make me a bad person.
I am a good person.
I am enough.
Should I die tomorrow, I have no regrets. Yes, there are still so many things I wish I could give or do for my mother, but above all, my wish was for my mother to feel that she's loved by her daughter. I think I've accomplished that. My marriage is in shambles, and should it end in divorce, God knows that it was never for the lack of love and faithfulness on my side. When it comes to being a parent, I have nothing to complain about. My daughter is kind, loving, independent, and wise beyond her years. I'd like to think that I have some part in that :) The friends that I have, I wouldn't trade them for anything. They are the most loyal, caring, supportive group of people I could surround myself with. And I think they know that the same goes with me. That I'm here for them whenever they need me.

I am enough.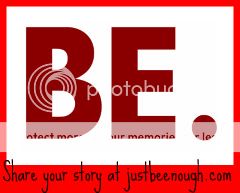 This is our very last week to make an impact for Be Enough Me 4 Cancer. Last week we had 45 people link up an enough-themed post in our Be Enough Me for Cancer campaign and I'd love it if you'd help us boost that number again. For every 20 linked up posts, Bellflower Books will provide a memory book to a woman fighting breast cancer through Cricketts Answer for Cancer, and help bring a smile to courageous women giving it their all, every single day. The link-up remains open for three days. No blog? No worries. You can also comment on the post or on the Just Be Enough Facebook Page page with your own story and be counted.