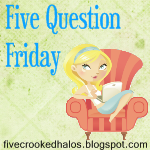 Questions for Friday, June 24th:
1. W
hat is your current favorite TV show?
Criminal Minds, hands down. I haven't missed a single episode out of the entire 6 seasons. Love the suspense, the story line, and the cast. My favorite characters are: Dr. Reed, Hotch, and Penelope Garcia.
2. W
hat's the worst haircut you ever got?
A chin-length, noodle-bowl cut with blunt fringe, partly burnt from a bad perm. It took me one year and a half to completely get rid of it. Luckily, by some kind of divine intervention, I was smart enough not to take any pictures of myself while sporting that particular hairdo-don't. But in an effort to show you what it looked like, I managed to get these pictures:
Who knew that years later, Lady Gaga wore the same hairstyle I did?!? This is how my hair looked like on a good day.
This is what it looked like on a bad day
OK, so now you know.
3.
What was something that you did as a child that you thought you were so cool for doing?
And I thought I was sooo cool...
Wearing United Colors of Benetton from top to bottom, with the latest pair of LA Gears sneakers with stitchings on the sides that could change colors!
Yes, my history of being a fashion victim began early in life.
4. D
o you have any GREAT frugal family fun tips?
I really believe in the saying, "The best things in life are free." Of all the fun times we had as a family, most of them actually happened when they weren't planned, and when we made the best out of whatever we had around us at that moment.
5.
Would you drive across country if you had the money to fly?
Absolutely. I love to drive and I'd love to be able to go on a road trip some day. With the people I love the most -- my hubbs, my daughter, and my mom.